Customers
How MoonClerk's Versatility Helps Support The Fitness Rebellion's Business Growth
Dodd Caldwell
December 20, 2018
Matt Wilbur, co-founder of The Fitness Rebellion, talks with us about how he moved 90% of his payment processing to MoonClerk after experiencing the versatility, simplicity, and support that MoonClerk offers.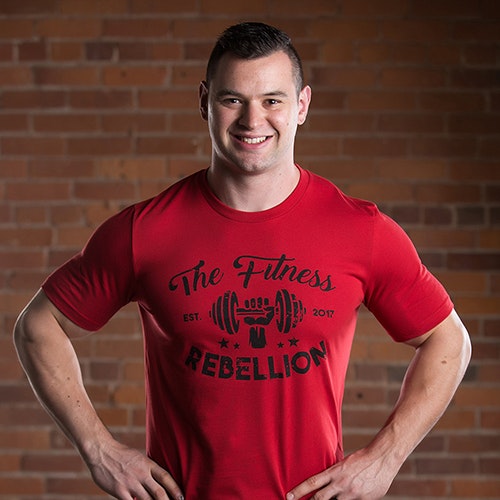 Can you tell us a little about what The Fitness Rebellion?
At The Fitness Rebellion we help busy, motivated, professionals get fit, lean, and strong without all the BS, confusion, or wasting endless hours in the gym. A lot of people know that they need to exercise and eat better but struggle with how to actually make it fit into their already very busy lives, and that's where we step in.
What are your day-to-day responsibilities?
I am the co-founder with my business partner, Matt DiBara. I manage all the coaching, training, and client side of things…so basically all the fun stuff.
How did you get started?
So I could go into a really long story because I feel like there are so many things that were slowly building towards the birth of The Fitness Rebellion, but I'll keep it short. My business partner and I have been childhood friends for a very long time and he has a great background in business and marketing and mine has always been health & fitness. After I had helped him through his own fitness struggles, we were having a nice diner breakfast on a freezing New England morning and he said "Hey, Matt you're really good at what you do, you shouldn't be working for someone, you should really look into starting your own fitness coaching business" So I replied, "yeah man, that sounds awesome but only if you'll be a part of it". He agreed and we've been building this no bullshit fitness movement to change millions of lives since.
What have been some key factors in growing your business?
We do a lot of different things to bring in new clients as well as retain the ones that we have, but I think the most important thing is just making sure that every single thing we do, whether it be our marketing, how we treat our clients, or our partnerships, we remain authentic and act in alignment with our core values and beliefs. Especially with us being in the fitness industry, people are just tired of the BS and false promises and I don't blame them one bit. So we keep it real and deliver a next-level service that truly delivers sustainable results.
What do you use MoonClerk for?
We use MoonClerk for almost all of our payment processing whether it be recurring coaching programs or one-time payments. I'm constantly discovering new features and realizing how easy it is to set up literally any kind of payment that I want.
Before MoonClerk, did you use another payment system?
We started out using a payment system that is tied into our membership site but there were definitely some limitations. It was just a pain and limited the amount of flexibility we sometimes need for our clients.
To be honest, we like to keep things simple. Managing payment plans through MoonClerk is incredibly simple and accessible.
What made you decide to use MoonClerk?
We decided to use MoonClerk based on its ease-of-use and versatility.
What was your experience when switching and getting started with MoonClerk?
It was incredibly seamless and simple. What really impressed me is one of the MoonClerk representatives personally emailed me when we signed up and took the time to go through our website and our offerings and then made suggestions on how we could get the most out of MoonClerk. That really caught my attention. We use a lot of tech to drive our business and no one else has done that.
What do you like about MoonClerk?
MoonClerk is simple, it's easy, and you can literally set up just about any payment you need to, post-date payments, edit current client plans, etc. It's pretty awesome.
How has MoonClerk improved or helped your business?
MoonClerk saves us time and makes signing up clients easier. We are now using MoonClerk to process 90% of our payments.
Any advice for others who are in similar industries?
If you need a flexible, easy-to-use, and cost-effective payment system, you need MoonClerk.