Business
How To Write A Business Plan For A Nonprofit Organization
Dodd Caldwell
July 21, 2020

Writing a business plan for a new nonprofit is essential, and this guide will show you exactly what to include and how to put it together. Without a business plan, it's easy to lose direction, harder to recruit quality personnel, and nearly impossible to successfully apply for funding.
Your business plan, once complete, should not only help you achieve those goals, but also provide you with a clear pathway to success. It should frequently be referenced during key decision-making times to stay on track and to make sure your not for profit organization always adheres to its stated vision. This guide will help you to create a business plan that fulfills all those roles.
Your Basic Nonprofit Business Plan Template
The best business plans aren't unnecessarily long, but do include as much information as necessary. They may be as short as seven pages long, one for each of these essential sections, or up to 30 pages long as your organization grows and becomes more complicated.
Don't worry if your business plan seems too short. Here, brevity is a virtue. If your plan has these seven sections and all the details mentioned here, you should be well on your way to meeting your nonprofit goals.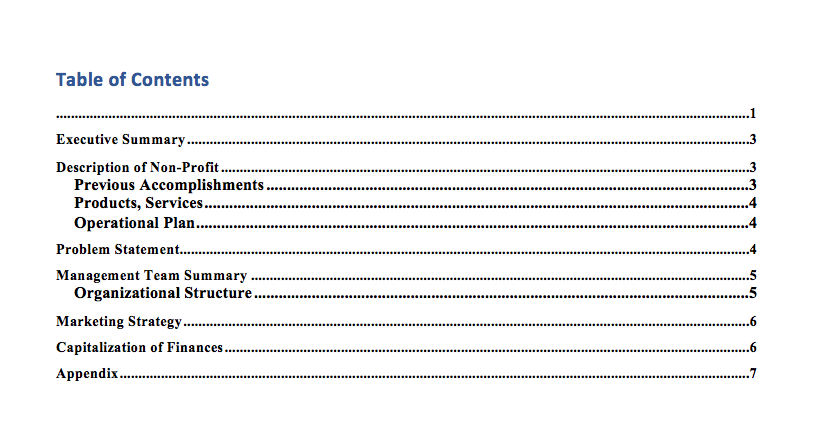 1. Title Page
This is the easiest part but should not be overlooked. This is like the title page of a resume. You should make sure your nonprofit's name about is 2-3 inches from the top of the page. Below it, you need to have the following details: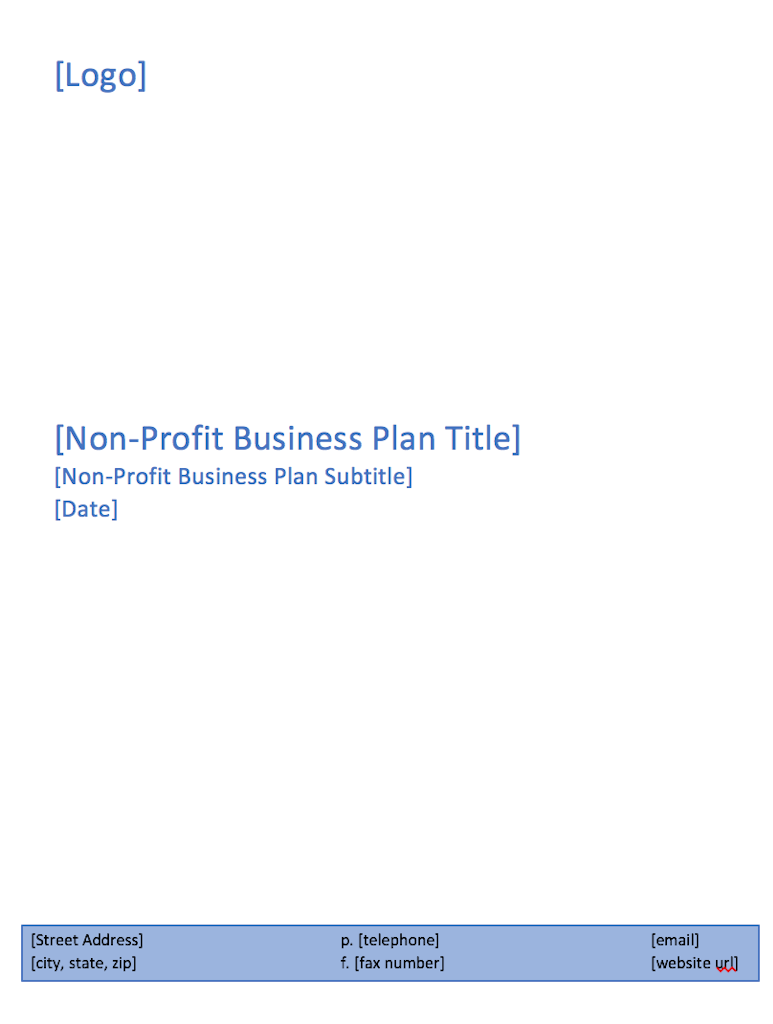 Business Plan – Just under your Nonprofit's Name should be the words "business plan" to show exactly what the document is.
The Date Your Plan was Finalized – You can write it any way you want, from September 2017 to 09/2017.
Contact Information – Name, Address, Email and Phone Number all go below.
2. Executive Summary
You can draft this up first, but it should be the last thing you work on. This is the most important part of your business plan. Here you must summarize, on one page, every critical aspect of your nonprofit. This summary will determine if someone, be it an investor or potential staff member, will continue reading.
The Executive Summary is where you sell your organization and its ideas. Here you need to describe your organization.
What makes your organization stand out?
What is your ultimate vision?
Which problems are you solving?
Then talk about how you are achieving those goals.
What accomplishments have you made?
What are your next steps?
How financially stable are you?
And, if you are applying for funding there are some things you need to think about.
Why do you need funding?
What are good sources for funding?
How will you seek funding from those sources?
What will you do to try and turn the funding into recurrent funding?
What grants are available?
What work is involved in obtaining grants?
What work is involved in maintaining the grants?
You should be able to answer all these questions in your executive summary.
3. Nonprofit Description – Details of Previous Accomplishments
If your nonprofit organization has a significant list of achievements and needs a dedicated space for them, this is the place to do it. At its best, this section will demonstrate how past goals were met on-time. It can also show real examples of how funding challenges were met or goals were exceeded. This should go directly after your Executive Summary.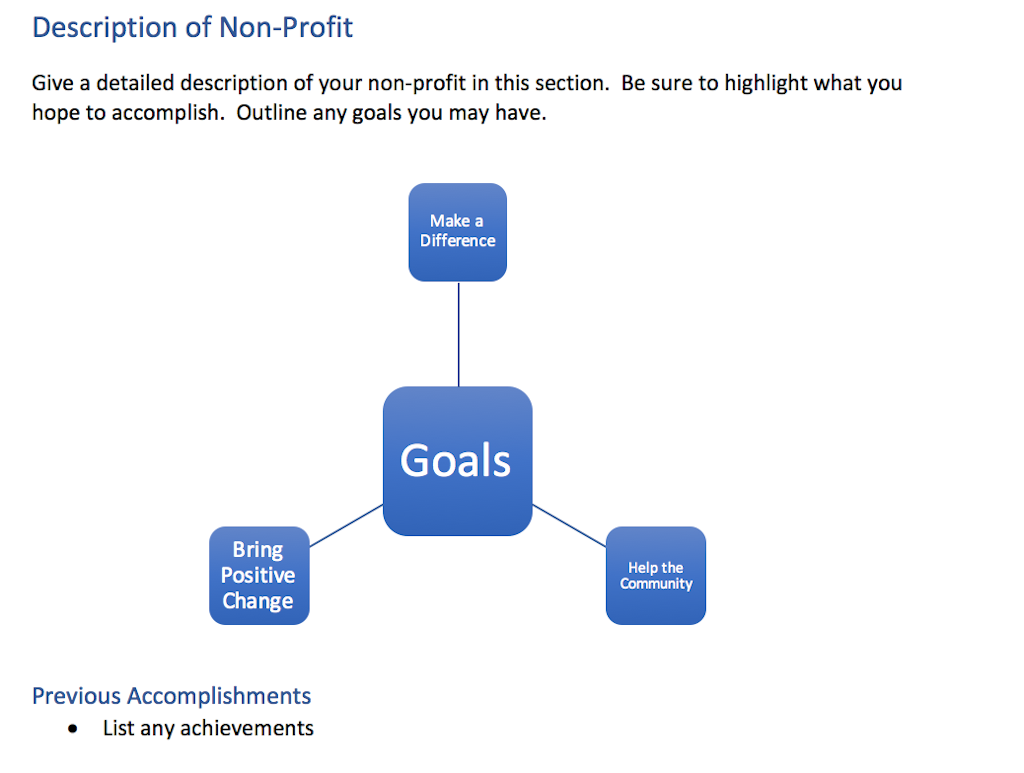 4. Product, Service, and Program Details
As a nonprofit, you more than likely won't be producing a product. (If you do, the complexities regarding your tax status and whether it is or is not eligible should be discussed with a qualified accountant or attorney.) As such, you should focus on what services you offer and how you plan to offer them. This section should be able to answer the following questions:
How do your programs and services make a positive change?
How can the effects of your accomplishments be measured?
Is there a chance of achieving this goal?
5. Management Team Summary
This is where you introduce the key players in your organization. List names, credentials, and relevant experience. You can go on to talk about their role in your nonprofit, too.
Then, if you have space, you can discuss any gaps you may have and your plans to fill them. For example, if you have a growing volunteer community and require a dedicated staff member, say that you are looking for one and what their qualifications should be.
6. Marketing Strategy
This section is where you detail how you plan to raise awareness for your cause.
Do you already have local traction?
Do you have a plan for acquiring media attention?
Is someone on your team a master of social media marketing tactics?
Do you plan on doing community outreach?
What is your impact potential and how do you plan to reach it?
Your marketing section should include examples of past campaigns and their effectiveness, if possible, and as space allows.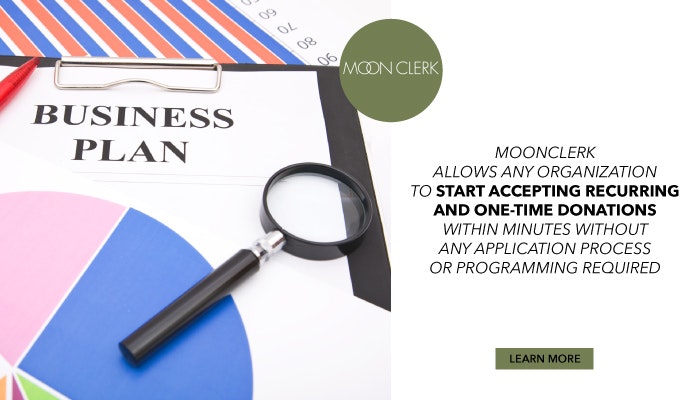 7. Capitalization and Finances
Here you need to list where your finances stand today as well as a 3-to-5 year projection. As you will update your business plan at least every two years, these number should stay relatively current. Make sure to keep your projections realistic and in-line with current or reasonably expected growth. This section is a prime space for charts, graphs, and other visual material.
Once you have provided all the basics, talk about what you plan to do if there is a surplus from any activity. What will you do if individual financial goals fall short? What fund-raising methods will you use? How will you seek out or process donations?
8. Appendix – Supporting Documents
This is the place to put any miscellaneous supporting documents like financial statements, endorsements or agreements. As a brand, new nonprofit, you might not have much to put here, and that's okay.
Remember, you only need to include what is most relevant, and you can leave out anything you may have covered in another section.
Don't cram this section with unnecessary documents – a maximum of 5 pages is more than enough.
Additional Sections
In the above section, you learned about the eight essential components of your business plan. Now you can add any of the additional sections below. Though not necessary, they may be useful to attempt if you're still trying to nail down all aspects of your organization.
As your nonprofit grows, or if it's already been active for some years, these sections may be essential to providing readers with a comprehensive look at your organization.
Problem Statement
Sometimes called "Market Research" or a "Needs Analysis," this is where you put what you have learned about other nonprofits in this area.
Is anyone else trying to solve this same problem?
Does your organization do a better job or have a different angle?
Is your goal open-ended or do you have a defined objective that you can finish?
Will that goal evolve?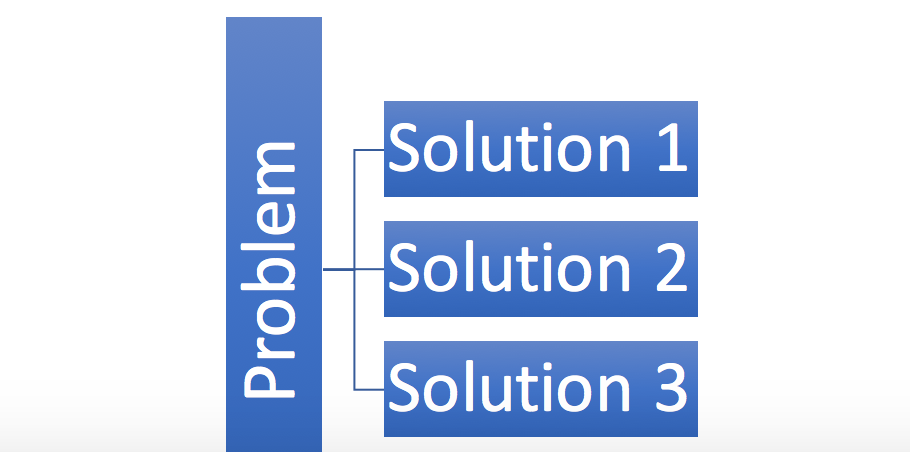 If you have any strategies or research to your credit or benefit that have not been mentioned elsewhere that will be an essential part of your nonprofit, include them in this section of your business plan.
Organizational Structure and Personnel Plan
This section would go after your "Management Team" or "Key Roles" summary. Here you will go into further detail about what positions you need to fill and how you plan to go about doing that.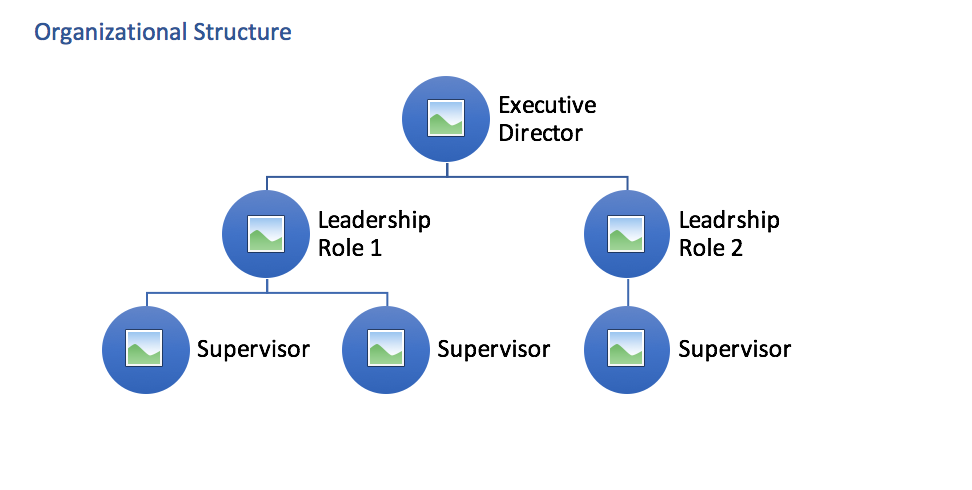 You may also include examples of staffing schedules. This is also the place to go in-depth about how you will handle volunteers and which tasks you should reserve for them. Effective volunteer management is a valuable skill for any nonprofit.
Operational Plan
Depending on which other sections you have chosen to include, your operational plan should show a brief outline of your current typical operating procedures as well as any changes you intend to make as your organization grows.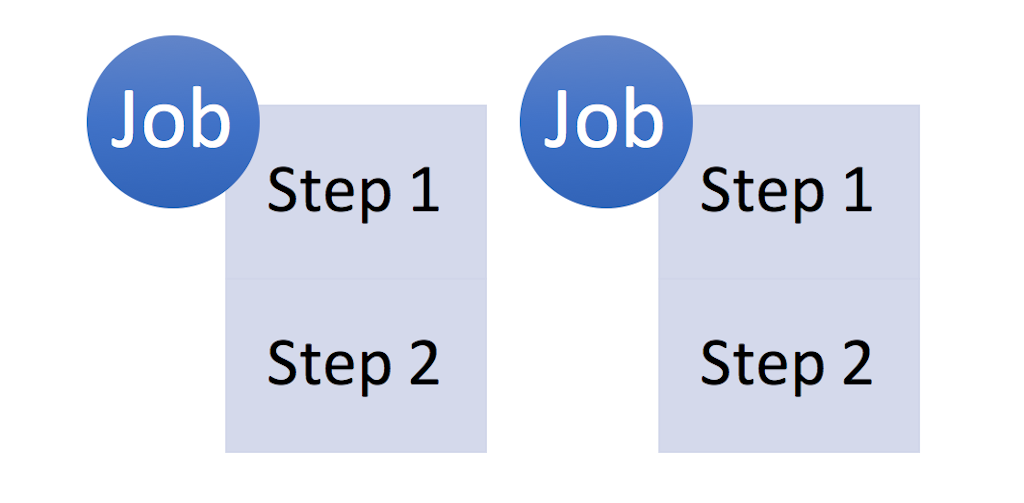 If the information you would put here is repeated in any other section, leave this section out.
Putting it All Together
Before you finalize your business plan, here are five things to keep in mind.
Order
The Title Page goes first, followed by the Executive Statement. The Appendix always goes last. Everything else goes in between, in order of most relevant to least, however you feel that applies to your nonprofit.
Visuals
You may use visuals in your business plan to underline important points. Financial charts and visual projections are always appreciated. Images of your successes may be, too.
Not only will they make it easier for others to skim over your plan (and many people will do that before deciding to read it in-depth) but it helps break up the monotony of plain text. However, don't let them stretch your document beyond recommended levels.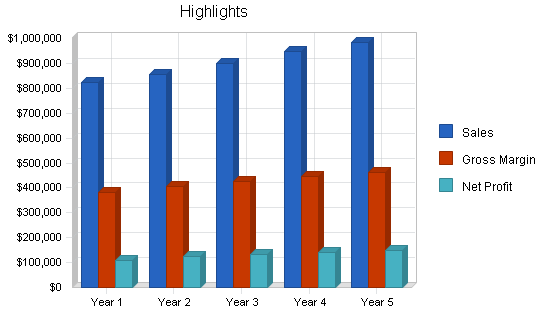 Format
Keep it simple. A business plan that includes all the necessary information is more impressive than one with fancy formatting. There are, however, a few things to keep in mind.
Keep your formatting consistent.
Use standard 1-inch margins.
Use a reasonable font size for the body, such as 12 point.
For print, use a serif font like Times New Roman or Courier. For digital, use sans serifs like Verdana or Arial. The font does make a difference.
Do start a new page before each section.
Don't allow your plan to print and leave a single line on an otherwise blank page. Find a way to fit it in appropriately.
Editing
Edit your work or ask someone to do it for you, maybe another board member. Writing your business plan should be fun, but it does have a purpose. Check each page and make sure every line supports whatever section you happen to be explaining.
Cut anything that is unnecessary. If you still feel like you need help, consider finding a mentor. You could approach a local nonprofit owner or contact a reputable organization like SCORE.
Length
You should be able to write a business plan that is, excluding the Appendix, no more than 15 to 20 pages long. Being thorough is admirable, but the people who ask for your business plan may not read past your executive summary and if they do they expect to find only the information they need to support their decision, no more.
Planning for the Future
Your business plan must evolve with your nonprofit. At a minimum, it should be revised every two years. Changes should reflect staffing updates, new accomplishments, revised policies or goals, and updates financial data, etc. Keeping your business plan up-to-date can help remind you and the board of what your nonprofit stands for as well as ease the burden of making rushed corrections if a significant change has occurred and you must apply for financing.
Plan to Write a Lot of Thank You Notes
As a nonprofit, paying attention to your donors is critical to your success. It is much easier to get recurring donations than it is to find new donors. Further, given your nonprofit status, you must provide receipts for gifts of $250 or more.
Personalized notes, whether digital or hand-written, are valued by your community so make sure you collect enough information to make those thank-yous personal and include the right receipts. If you can do that, your nonprofit has a much better chance of growing from a handful of supporters to a thriving community.