Product
Sell Digital Products With MoonClerk's Digital Delivery Extension
Dodd Caldwell
July 21, 2020

We're excited to announce the launch of our first paid extension – Digital Delivery.
With the Digital Delivery extension you'll be able to sell digital products and manage the entire process from within your MoonClerk account. We take care of delivering your digital product to your payers.
We're offering the Digital Delivery extension for a flat $18 extra per month. You can enable Digital Delivery on your account at any time.
It offers the ability for you to:
Store unlimited content with unlimited delivery bandwidth
Sell access to digital content via subscription or one-time payments
Upload any content type (audio, video, e-books, etc.)
Style the download page to match your brand
Once you've enabled the Digital Delivery extension, it's easy to get started:
Then, we take care of delivering the content to your payers!
First, your payers will check out on your MoonClerk payment form:
Next, they'll receive an email with a link to access the Package you've created:

Finally, they'll arrive at the digital downloads page and be able to download the digital products you've attached to that Package: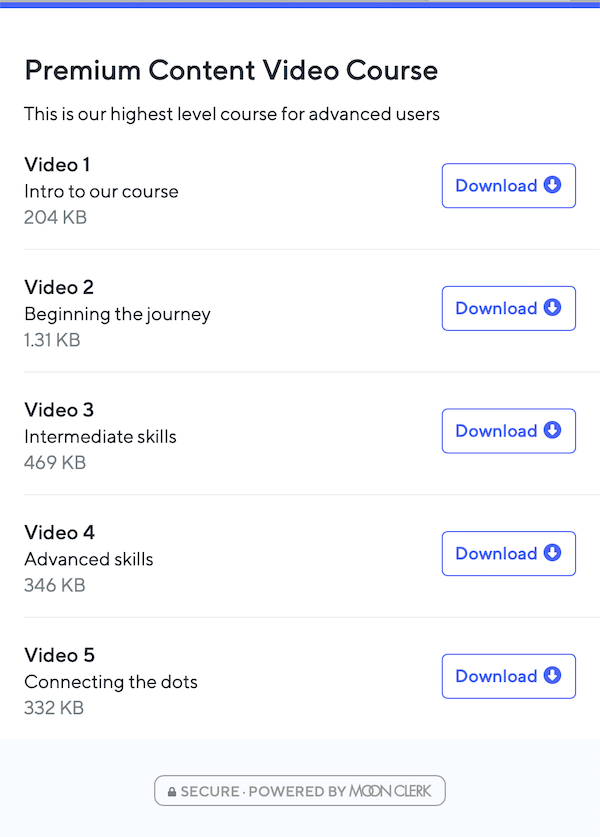 You can read much more in our Digital Delivery Help section. If you have any questions, please let us know!