Business
Using Squarespace Websites And MoonClerk Together
Dodd Caldwell
July 21, 2020

Update: On December 8, 2014, Squarespace upgraded all sites on their system from Squarespace 6 to Squarespace 7. This blog post was originally published in 2013, but on Dec. 30, 2014 we updated the content and video for Squarespace 7.
We have a lot of MoonClerk customers using Squarespace websites to power their businesses and brands. In a lot of cases, we recommend Squarespace when anyone's looking for an inexpensive, easy-to-use, yet good-looking website. We recently asked Rick Champlin, a Squarespace expert, to do a quick tutorial on how to use MoonClerk for recurring or one-time payments within Squarespace websites.
To start everything off, you'll need to already have created your MoonClerk account and created a payment form. Once you've saved your payment form, it's really as easy as copying and pasting some code into your site.
Rich recorded a quick video walkthrough for you:
If you'd like, you can also go through a less comprehensive written tutorial below.
Let's get started with integrating MoonClerk into Squarespace Websites:
After you've saved your MoonClerk payment form, select "Use" from the menu.

There are a few different options for using MoonClerk payment forms on SquareSpace websites. You can place a link on your site, you can embed a payment form on your website so visitors don't ever have to leave your site, or you can place a button onto your site. In this short tutorial, we'll go over how to embed a form on your site.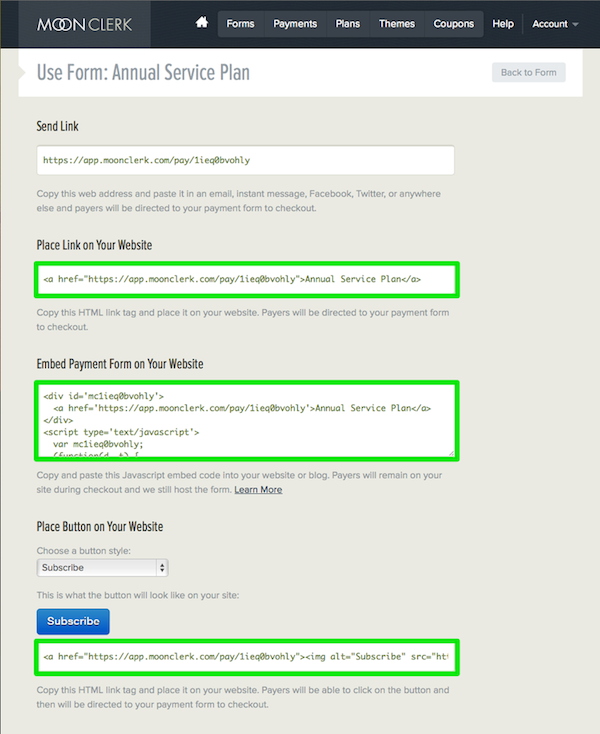 Once you have copied the code from your desired option, head over to your Squarespace website where you want to place the form.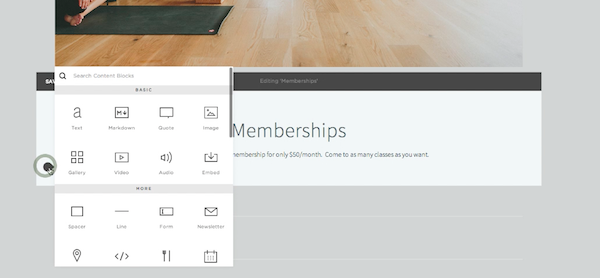 You'll need to choose the Code Block section.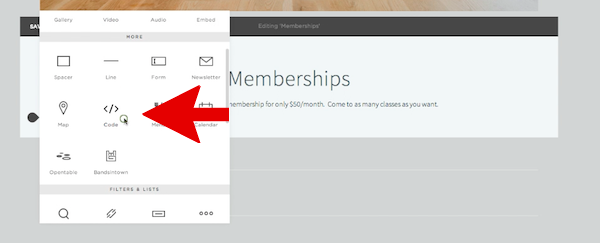 Once you've navigated to the Code Block sectionand selected the page where you want the form to appear, paste the code you've copied from MoonClerk into a Code Block and click the Save button.

Because the code contains javascript you won't be able to see the form within the content editor, but it will be rendered on the front end of your site once you navigate to the designated page.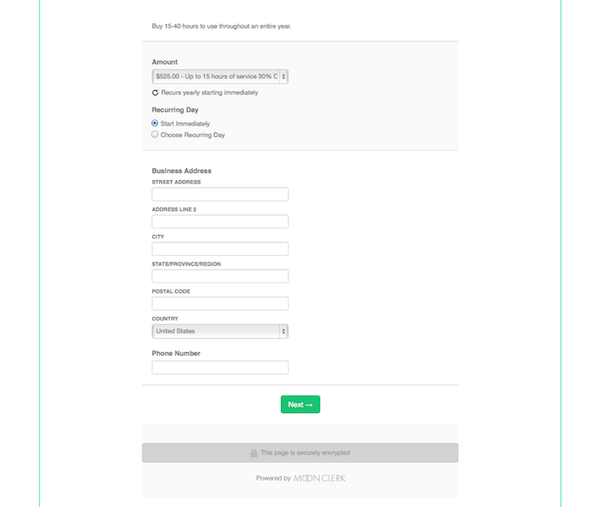 This particular form has already received some design editing within the theme option in MoonClerk to make it match the style of the site. The above is an example of what your form could look like.
And that's how you can use MoonClerk with Squarespace websites.
Keep in mind that Squarespace offers a great ecommerce platform. MoonClerk doesn't offer ecommerce software. We offer the ability to accept recurring and one-time payments. So, what some MoonClerk customers do is use Squarespace's ecommerce system along with MoonClerk's recurring payment forms. When they need to keep track of inventory for single items they sell (and use other ecommerce features,) they use Squarespace for that portion of their business.
Your customers can check out on Squarespace's ecommerce system for the single items and can separately check out on a MoonClerk payment form for recurring payments.
If you're interested in having a professional help you with your Squarespace websites, we recommend Rick Champlin. Rick started Simple Group after graduating from USU with degrees in Business Administration and Economics. Simple Group focuses on building beautiful websites at affordable prices, using todays best web services. By building on Squarespace, Simple Group can have your site up in just a few days for as little as $500.