Business
35 Subscription Ideas To Jumpstart Your Business
Dodd Caldwell
July 21, 2020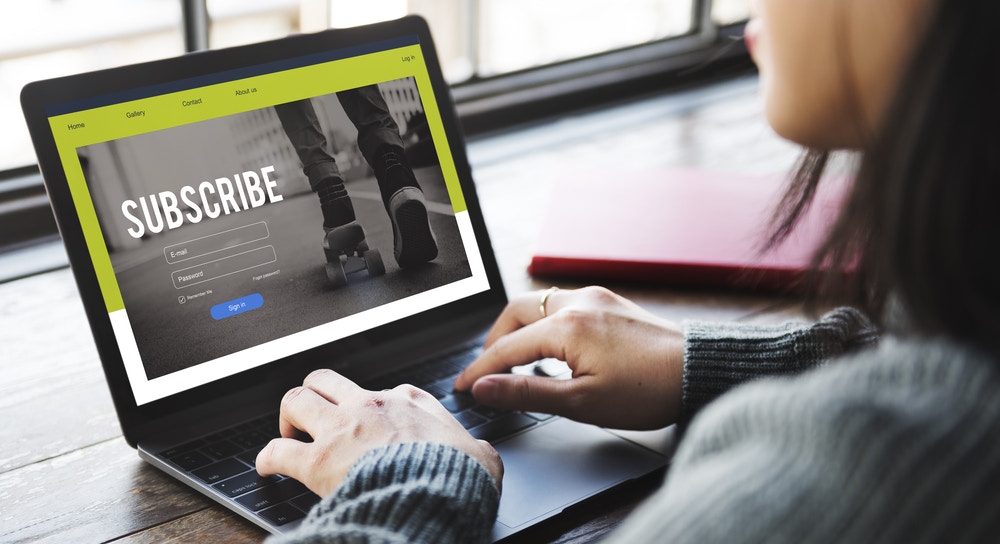 Whether you already have a business or are just starting out, adopting a subscription model can help you achieve consistent, month-to-month revenue. With a simple recurring payment system, your clients know exactly what to expect and when to expect it.
If you offer a subscription box, your customers can simply sit back and anticipate its arrival. If you offer a recurring service, they can schedule their regular time of service and not have to worry about when their next payment is due.
We've put together a massive number of subscription businesses you could start right now or add to your existing offerings.
1. International Snack Sample Box
Just about everyone loves snacks. However, eating the same snacks all the time can become incredibly dull. Enter the international snack box.
There are a lot of different ways you could go with this. Your box could specialize in candy from a particular country or region. You could even go out and find savory snacks, or snacks with fruit themes. Not only will your subscription boxes help your subscribers break up the monotony of their day to day lives, but they can look forward to them as a once or twice a month treat.
2. Healthy Snack Subscription Box
In contrast to an exotic snack box, you could offer healthy options. These could cater to the dietary needs of your clientele. Finding snack options that adhere to specific guidelines can be exhausting for those who follow special diets or have allergies.
They would be more than willing to have you take on that challenge for them. Gluten-free, vegan, nut and dairy free, or low-sugar are all great starter options. This also always you to branch out over time.
3. Fresh Herb Subscriptions
If you have a green thumb and a knack for growing herbs, this could be the ideal business for you. It may be best to start local due to the shelf-life of herbs. Your first clients may be members of your local CSA or cookbook society.
4. Fresh Mushroom Delivery
Mushrooms are a fantastic health food. They can be used in nearly any kind of cuisine for every culture. If you happen to have an active vegan or vegetarian community nearby, you already have a hungry clientele. Mushrooms aren't too hard to grow, come in a variety of different shapes and tastes, and don't take up much space. Selling mushrooms via subscription can help guarantee that your harvest will never go to waste. In addition to fresh mushrooms, dried and medicinal varieties are also an option.
5. Farmshare or CSA-Style Box
If you happen to be lucky enough to have a small farm or orchard, choosing an "all you can pick" subscription model can help reduce labor and transportation costs while boosting revenue. A variety of profitable, growing farms have experimented with a recurring, season-pass type subscription.
If you would rather box up and deliver the produce you grow, following the tried and true Community Supported Agriculture model can help guarantee income season to season. Including recipes with your boxes can help home cooks make the most of their new found bounty.
6. Spice Mix Bundles
Don't have a green thumb but love to cook and experiment with different types of cuisine? Offering a recipe subscription with pre-mixed spices could be your perfect niche.
Sometimes adventurous cooks can be too busy to find a new recipe and stock up on the rare ingredients needed to make it. You can do that for them.
Bundling just the right amount of spices and a recipe with a shopping list of easier to find ingredients could make a worthwhile subscription.
7. Hobby Newsletter
If you happen to be an ace with words or have connections in a local hobby community, putting together, an information-packed newsletter could prove profitable. Your newsletter can include reviews of suppliers, how-tos and plans, information about gatherings or events, and much more.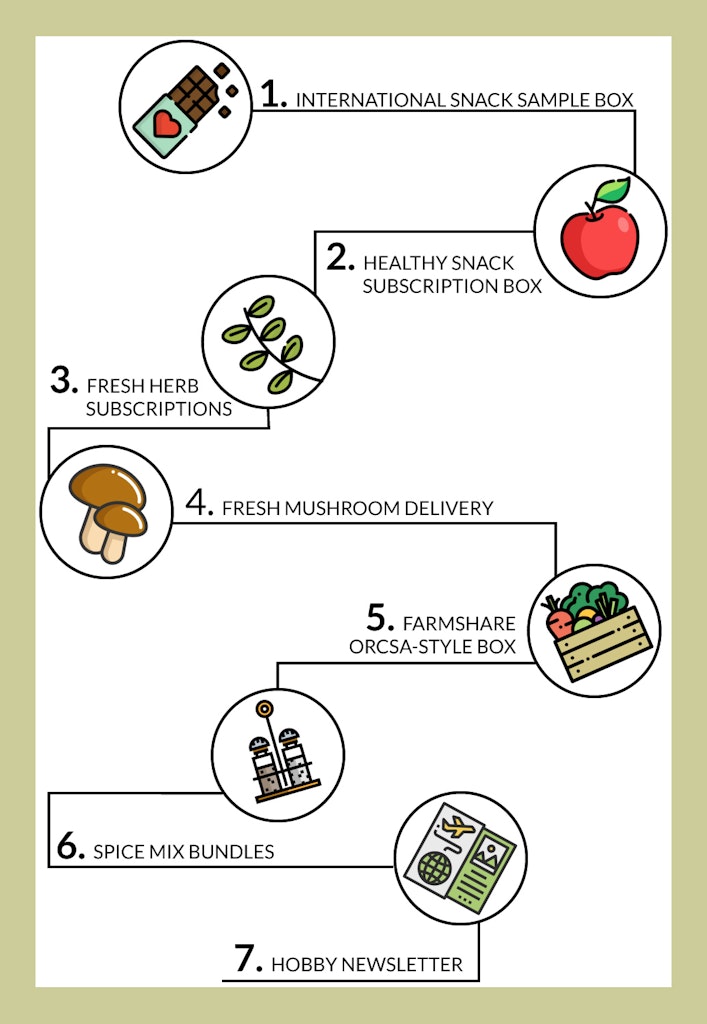 8. Community Events and Deals Magazine
If you live where there is a thriving community of local businesses (or know of such a community) creating a digital or print magazine or circular with local events and deals might be something people would subscribe to.
Not only would they get a discount at new local businesses (or their favorite lunch spots) they will always be in the know. This can be especially useful in a college town.
9. Collection of Daily or Weekly Challenges
Some people need help getting started with their projects. By creating a group that thrives on a little healthy competition you can give them that boost.
All of your subscribers will get the same challenges every day, week, or month. Then, if someone does exceptionally well, they could earn prizes or win a special shout out.
10. Accountability Calls
In a more personal way than the suggestion above, offering a subscription for supportive "accountability calls" can help people stay on track with their goals. If you are already a life coach or are considering life coaching, this could be something to consider.
11. Equipment Rental
Do you happen to have some sort of equipment you could rent out? Are you interested in renting equipment? This doesn't have to mean construction equipment or power tools, either. You could rent out art and production supplies like 3D printers, CNC machines, or kilns. You could even set up a "maker space" or workshop that people could buy a subscription to use.
12. Media Rental
As opposed to equipment, you could rent out media. This could be a local lending library of music, movies, anime, or children's programming. It could be language learning programs or software. If you have the resources, chances are you could create a subscription-based rental system.
13. Private Library
If rare or expensive books are a passion of yours, creating a private library could be a perfect fit. In this case, especially if you are dealing with rare books, don't forget to buy insurance. As an alternative option, if you would rather spare your collection, you could curate books for your clients. Though everyone may be able to make time to read, finding the best books can be tedious. Your subscription could be the best-personalized book club anyone has ever joined.
14. Craft Kits
If you happen to be a master at crafting, jewelry making, knitting, or any similar hobby- creating small kits could be for you. For just $20 to $30 on average, your clients can opt to be sent a small kit with a project or two every month. These kits could be in a particular category or range all over the craft project spectrum. Kid-friendly boxes are another option.
15. Childcare and Babysitting
On the subject of children, adding an automatic subscription to your child care offerings is an excellent idea. Parents, especially, could use one less thing to worry about.
16. Pre-Made Meal Service
Meal prep is gaining in popularity. For so much a week, a certain number of meals are delivered to each of your subscriber's homes. Those meals will, ideally, be the perfect balance of healthy and delicious. They will ease the burden of preparing a nutritious meal after a long day at work. Alternatively, some subscriptions offer meal delivery to people at work.
17. Meal Plan Subscription
If you would rather not handle food directly, creating easy meals plans is another way to help ensure your clients are eating better. Meal plans can be delivered via email or standard post. They should include a schedule, recipes, and shopping lists as well as any budget-wise and prep tips you can offer.
18. Pet Treats
People love their pets and pets love treats. Providing a selection of pet treats delivered to their door can make a pet lover's day. You don't have to limit yourself to just dog treats, either. Rabbits, birds, and even chickens enjoy an occasional treat.
19. Pet Toys
In the same vein as pet treats, you could offer a selection of new toys every month. BarkBox is the most famous example. A fresh selection of toys is necessary for anyone whose pet enjoys their toys to pieces. It's also required if your pet's toys are designed to be chewed up by the end of the month – like those for hamsters and rabbits. Birds need a constantly rotating choice of toys, too. A subscription service makes it easy for pet owners to fulfill their pet's needs.
20. Routine Pet Care (Or Plant Care)
Taking care of pets while their owners are at work or out of town is a regular, necessary expense. The same goes for dog walking. House plants may require less work than pets, but watering and pruning them can require a delicate, expert touch. For those who like the benefits of houseplants without the fear of killing them, this subscription is perfect.
21. Vitamin Subscriptions
From month-to-month, about 68% of American adults take at least one vitamin or supplement, according to a study by CRN. This trend looks to be increasing, too. Taking care of your health is important- everyone knows that. With a vitamin subscription, you can make it easier for people to do exactly that.

22. Lawn Care
Lawn care is a necessary expense for nearly every homeowner in the country. By offering your lawn care services on a set subscription plan, you can reduce monthly costs, even if your services are seasonal. This works similarly to a payment plan and gives your customers a stable monthly bill.
23. House Cleaning
House cleaning is a perfect industry for the subscription model. By allowing your customers the convenience of paying automatically and online, they never have to worry about having cash on hand of being at home while you're at work.
24. Unique Stationery and Greeting Card Subscriptions
There is no invitation, card, or thank-you note better than one that is handwritten or thoughtfully crafted. By offering a subscription with a selection of carefully chosen and unique cards, you ensure that your subscribers are always prepared.
25. Cocktail-of-the-Month
A unique twist on the older concept of the "wine of the month club." A cocktail of the month (or week) subscription provides everything your customers need to make up a few fancy drink and unwind.
These subscriptions may come with or without the alcohol, may offer "virgin" options, and can even come in different sizes for a regular party of just a simple evening at home. If you are interested in this opportunity, remember to do your homework when it comes to state laws and shipping restrictions.
26. Fresh Flower Subscription
As a florist or flower arranger, choosing to offer a fresh flower delivery subscription is a smart idea. Not only could it appeal to romantically inclined customers but it can also boost the success of local businesses. In fact, plants in the workplace, especially flowers, can help promote the health and motivation of those that work there as well as impress customers.
27. Mastermind or Critique Group
Offering a subscription to a select group or club is another option for those who would rather not deal with a physical product. A "mastermind" is typically a group of business people who get together to discuss their most recent successes and failures as well as new tactics and trends.
In contrast, a critique group is usually a gathering of writers or artists looking to improve their work. They get together and swap ideas for new projects and pitch collaborations. The entry fee ensures the health of the group and helps cover part of the cost for vetting potential members, finding a meeting space, and providing refreshments or business opportunities.
28. Curated Playlists and Karaoke
For those who love music, providing curated playlists to eager listeners can be a dream job. By offering new music in the form of digital downloads or physical CDs, your subscription can provide inspiration and motivation.
If you happen to have a passion for Karaoke, you can turn that into a subscription, too. You can offer tracks and lyrics for download each and every month. Alternatively, you could create a subscription that grants access to your entire catalog.

29. Fresh Beauty Samples Box
Offering beauty samples can help your subscribers find the perfect products for them. That can be incredibly hard to do any other way. Finding new products is essential as people age and their skin changes. Not only that, but aside from the necessities, skin care and HBA boxes provide fun and novelty experiences like masks, and balms that produce cooling and tingling effects.
30. Mentoring, Lessons, and Advice
From tutors to piano teachers, offering your hard-earned skills and advice on subscription can make things easier for you and your clients.
31. Online Classes
Online courses can be offered piece by piece with new modules unlocked every month or on a "go at your own pace" model where all of the content is available, but you pay for access each month. Both of these are valid models no matter who your students are. You could offer art lessons, craft tutorials, therapy sessions, or traditional subjects.
32. Tea Sampler
Tea, especially herbal and blended tea, comes in more variations than most people can imagine. Not only can you offer a subscription of seasonal tea samples but you can include information and insights about where and how the tea is harvested. Further, your tea boxes can include tea accessories and even a discount to a tea-specific online shop if you have one or would like to have one.
33. Specialized Information and Lists
Creating a list of obscure contacts or information could be worth quite a bit to the right buyer. Companies like World Wide Brands offer a wholesale directory on subscription. Many websites with drop shipping contact information offer the same. You could also offer your skills as a researcher to those looking to set up a business or find a new supplier in a particular space.
34. Regular Order Subscription or Lunch Club
Have a restaurant or local lunch spot? Own a coffee shop with regular customers? Introducing a monthly subscription can speed up day-to-day operations. Your clients will pay ahead for their daily coffee or a certain number of credits and simply stop in to redeem them. Then they can be on their way, and you start the month with a much better cash flow outlook than you can expect now.
35. Spa Day Subscriptions and Massage Packages
Offering a subscription for spa services can encourage your customers to stop in on a more regular basis. Subscriptions could consist of a particular service or allow your customers to choose one or two options from a short menu. The program can also be tiered.
Subscriptions Can Fit Any Industry
These suggestions are just the tip of the iceberg. If your business offers any item that your customers might need to replace, in whole or in part, you have the makings for a great subscription. The same goes for any industry that thrives on recurring services. If you can think of something you use and purchase regularly, there's an opportunity to make that process more convenient for everyone else who does the same thing.
SaveSave