Product
Zapier Integration Now Available - Connect MoonClerk To 300+ Web Apps
Dodd Caldwell
July 21, 2020

For quite a while, we've been working on an integration with Zapier, a web automation platform that makes it easy for non-developers to connect over 300 web services together. We're happy to announce that our integration with Zapier is now available to everyone!
We're pretty excited about this as it adds a lot of power to MoonClerk. We've already released some great direct integrations that connect MoonClerk directly with third party software providers, and we plan to add more over time. But until then, Zapier will immediately provide a way to integrate a wide-range of software providers. And, in some cases, a Zapier integration will always more robust and provide more functionality than what our direct integrations offer.
Zapier will allow you to connect your MoonClerk account to some of the most popular software services for Email Marketing, Accounting/Bookkeeping, CRM, Appointment Management, Instant Messaging/Group Chat, Cloud Storage, and many more. View the full list of web apps you can integrate with Zapier.
An integration on Zapier is called a "zap." Here are some the potential Zaps you can create:
Email Marketing
Even though we already have direct integrations with most of the top email marketing providers (such as MailChimp, ConvertKit, and ActiveCampaign) Zapier allows you to have an even deeper connection with these and other providers.
See a couple of example Zaps with MailChimp: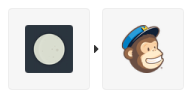 Add custom fields from MoonClerk to your MailChimp list fields
Add MoonClerk payers to specific groups in a MailChimp list
After a successful checkout, our direct integration allows you to pass your payer's email to a MailChimp list. But a Zapier integration will allow you to pass any of the additional information (custom fields) you've collected at checkout to that subscriber's profile in MailChimp. You could also send payers to specific groups inside a list based on specific parameters of the checkout. For example, within a subscriber list, you may have gold, silver, and bronze groups. You could send your payers to different groups based on the amounts they've checked out for on a single payment form.
Instant Messaging/Group Chat
Some of the most popular instant messaging and group chat services (such as HipChat, Campfire, and Slack) are available on Zapier.
See an example Zap with HipChat: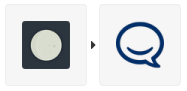 Create a new message in HipChat after a successful payment on MoonClerk
Getting paid is a time to celebrate as well as something to document for your team. You could create a new message in HipChat every time a payment is processed someone in your MoonClerk account.
CRM
Whether you're a nonprofit, consultant, design firm, or any other type of small business, it's always great to have a database of your donors or clients. Customer Relationship Management (CRM) software helps you do that. Zapier works with some of the most well-known and robust web-based CRM's on the market – Salesforce, Zoho, Highrise, and more.
See an example Zap with Highrise: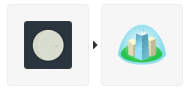 Create a new contact in Highrise when a payer signs up for a recurring plan in MoonClerk
Every time someone new signs up for a recurring plan on MoonClerk, you can add them (along with all of the custom information, such as address) as a new contact in Highrise. Then, you could have every payment made on that recurring plan added to that contact.
Google Spreadsheet
Using Zapier to link up MoonClerk with a Google Spreadsheet can help save the time it would take to regularly export spreadsheets from MoonClerk. You can automatically keep your spreadsheets up to date and give your entire team access to them at the same time.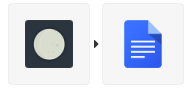 Update a Google Spreadsheet whenever there is a successful payment on MoonClerk
In the example above, every time a payment is made on your MoonClerk account, your Google spreadsheet is automatically updated with the data for that payment.
---
These are just a few examples of the categories of web apps and the tasks that can be accomplished with them through the Zapier/MoonClerk integration. Do keep in mind because there are over 300 third party apps involved in this integration, we obviously don't know how all of them work.
However, you can visit this Help document on Zapier to learn how to get started with your MoonClerk account and Zapier.
As always, we'd love to get your feedback on how you're using Zapier and MoonClerk to streamline and power your business.