Customers
How Juneau Composts Grew While Eliminating Non-Paying Customers Using MoonClerk
Dodd Caldwell
September 10, 2020

Lisa Daugherty, founder of Juneau Composts, talks with us about how MoonClerk has helped her grow her business, eliminated her "bad debt", and saved her from having to hire an additional employee.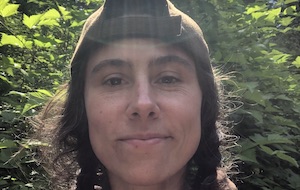 Can you tell us a little about what Juneau Composts does?
Juneau Composts turns waste into wealth by building closed-loop food systems. On the front end, we are a recycling service, collecting food scraps, yard debris, and other organics at the curb. On the back end we are a manufacturing facility, making soil amendments for local gardens. We also do education through field trips and class offerings.
What are your day-to-day responsibilities?
On any given day I might be collecting food scraps at the curb, putting together social media posts, turning compost piles with a front end loader, responding to customer emails and calls, planting grow trials, or fixing broken equipment. We are a two-person operation and serve 325 customers per week plus one-off sales, so it's always a hustle!
How did you get started?
I was flustered at the lack of responsible waste management in my community. There were zero options for composting beyond the home level. People were putting everything from horse manure to branches and lawn clippings in the landfill, and people said composting couldn't be done here because of our high bear population, low temperatures, and high rainfall. I volunteered my time to run a pilot project to prove it could be done, then decided to turn it into a business.
What have been some key factors in your growth?
We've been able to grow recently (despite coronavirus) because we intentionally grew slowly in the beginning. We made sure our service was stellar and our products were effective and built up a good reputation in the community. In the beginning people thought we were kooky but now everyone raves about us because we make our community a more sustainable place. Having customers who are beyond satisfied is the #1 reason our customer base continues to grow.
What do you use MoonClerk for?
We use MoonClerk for all of our payment processing. We use recurring plans for our subscribing customers so everyone is on auto-pay. For our one-off customers, we use MooncCerk forms, which are linked on our website. We have a self-serve drive-through for yard debris, and customers can easily pay on their phone while parked in our Compost Yard.
What problems did you have with your previous payment system?
Before MoonClerk I used Paypal. Invoicing each month took up so much time. Having to send reminders when people didn't pay was draining. Many people just don't have the time to pay a bill each month. Getting all my customers on auto-pay became a priority for me so that I could save time and also so that I wouldn't lose customers because they didn't pay.
What was your experience when getting started with MoonClerk?
A millennial friend from out-of-town recommended MoonClerk to me. I hemmed and hawed for months, but one day her flight was laid over in my town. She came over and insisted we sign up my business together. I am so grateful she was persistent - it was a life-changing move for my business!
What specific feature do you like most about MoonClerk?
I like so many things about MoonClerk! It's easy for my customers. It's easy for me. Even if you aren't computer savvy you can make a payment form in minutes. Wherever I add a new product, I simply duplicate a form, make a few quick changes, then I copy and paste the link into my web builder. I also love that I can see how much money I'm making on each product and service. It really lets you see what areas of the business you should build and what areas aren't panning out.
How has MoonClerk improved or helped your business?
We no longer have "bad debt," or customers who don't pay for our services! With MoonClerk's auto-pay system, I never have to invoice or track down payments, and it has saved me endless headaches and about 15 hours a month in accounting time. MoonClerk also allowed the self-serve portion of my business to work without hiring an additional employee. Customers I've never interacted with pay me and get what they need seamlessly!
Would you recommend MoonClerk to others?
Yes! I love it! It's easy to use and affordable!