Customers
How Moomaw Family Farm Uses MoonClerk To Power Billing For Its CSA Members
Dodd Caldwell
July 21, 2020
Nathan Moomaw, owner of Moomaw Family Farm, talks with us about how he uses MoonClerk to automate the billing process for his CSA members.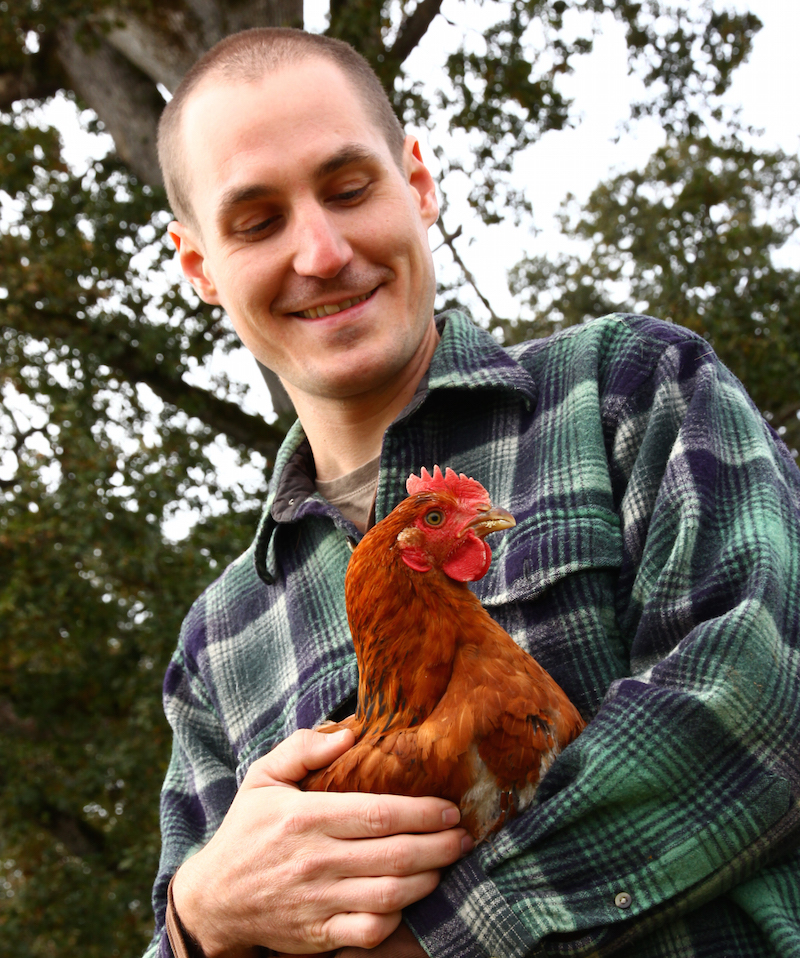 Can you tell us a little about Moomaw Family Farm?
We're a CSA farm near Portland, Oregon that raises pastured pork, chicken, lamb, and rabbit. We're on our third year now. We only raise meat for our CSA members, who each receive from 5-10lbs of meat delivered to their homes each month, all year-round. I set this business up very intentionally to focus exclusively on raising ethical, healthy meat for local families, and so far it's worked really well, as we've been sold out each year. We've grown from serving 80 members to 150 members.
What are your day-to-day responsibilities?
I started the farm by myself, and did pretty much everything the first year. The past couple years, my wife has been able to help more and my mom has been doing the weekly deliveries to our members' homes in Portland.
We've also had farm helpers stay with us, so that has relieved quite a bit of the daily workload pressure. Running a farm requires wearing many hats throughout the day. I try to do as much as I can myself to save money. For instance, I do all the photography, website design, and marketing, in addition to carpentry, plumbing, veterinary, bookkeeping, accounting, sales, etc…
How did you get started?
I had no background in agriculture and grew up in the suburbs and cities on the west coast, so it was a 10-year process of working on farms and at farmers markets before I was ready to start my own venture. I spent those ten years honing my business plan, so by the time I started, I had a pretty well-refined vision of what I was going to do. By starting as a CSA, I was able to finance the start-up of the business using pre-sales to my members. Each member paid between $500-$1,000 in advance for their meat, which allowed my to raise the $60,000 I needed to get thing up and running. I found land to lease, set up equipment, got animals, and started delivering meat in the summer of 2013.
What have been some key factors in growing your business?
I think a key factor to our growth has been being willing to make big changes, even if there is some short-term pain involved. Here are some big changes we've made so far that have resulted in sustained growth:
Raising prices by 25% the second year, after realizing our costs were higher than anticipated. The demand was there, so we took the risk in order to get comfortably profitable. There was a short-term hit to sales, but before too long we were sold out of meat again.
Relocating the farm from one leased property to another after things didn't work out with the landowners at the first place. This wasn't a choice really, but it was worth doing and we're now much better off for it.
Switching our payment system from annual payments to monthly payments since most people can't afford to pay $1,000 at once. We kept hearing from folks who wanted to join, but couldn't afford it, and it was getting to be a lot of work to find people who could afford it. So, we figured out the way to keep our price per pound the same, but make it easier for people to pay, was to switch from an annual payment to monthly payments. Our short-term cashflow took a hit, but we've been able to expand and the future cashflow looks great.
What do you use MoonClerk for?
When we decided we wanted to switch from an annual payment to monthly payments, I realized that I would need to automate the process as much as possible, rather than manually invoicing all 150 members each month. We now use MoonClerk as our main payment system. We use it to charge monthly recurring membership fees.
Before MoonClerk, did you use another payment system?
Prior to MoonClerk, we just sold annual memberships, which happened through our Squarespace website. Each year, I would have to remind all the members to sign up again. The only problem with the Squarespace store was that it didn't allow for recurring charges.
What made you decide to use MoonClerk?
MoonClerk had the exact functionality I was looking for, a nice design, and an affordable price. The integration with Squarespace and Stripe was perfect for my existing payment set-up.
What was your experience when switching and getting started with MoonClerk?
Overall, the process was very quick and easy. It took me a little while to recreate the membership forms I had been using previously, but I figured out how it all worked without much trouble. I made the switch in less than a day, which is pretty fantastic.
What do you like about MoonClerk?
I like that MoonClerk works! The automated features all do what you expect them to do and everything that needs to be customized is customizable.
How has MoonClerk improved or helped your business?
MoonClerk has allowed us to make our services more accessible and convenient, which improves the value of what we offer, and has contributed directly to an increase in sales.
Any advice for others who are in similar industries?
Many farmers are hesitant to adopt new technology and ways of doing business, but I encourage them to explore what having these new tools could allow them to do. Being able to sell directly to retail customers over the internet, in an entirely automated way, allows a farmer to get top dollar for their goods, and allows them to be doing something else while that high-profit sale is happening, and it's super convenient for the customer! Also, the concept of selling subscriptions to a farm has huge potential, MoonClerk's recurring payments system makes it easy to do.