Customers
How MoonClerk Helped Improve iEvolve Fitness' Client Conversion Rate
Dodd Caldwell
July 21, 2020

Ocean Trail, founder of iEvolve Fitness, talks with us about how MoonClerk has helped streamline 100% of her sales transactions and increase her conversion rate of prospective customers to paying customers.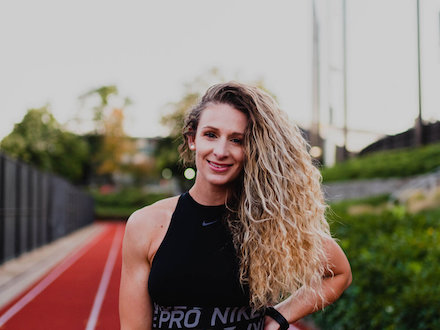 Can you tell us a little about what your organization does?
iEvolve Fitness is as a full service online personal training business that focuses on coaching and educating clients on nutrition, programming, mobility and overall performance. By investing in my clients personally I am able to help them achieve their physique goals through flexible dieting and making progressions in the gym.
What are your day-to-day responsibilities?
As the founder and owner of iEvolve Fitness, I am on-call and responsible for everything from program design, to coaching, to marketing and promoting the business. As a multifaceted individual I am constantly looking to improve my services. My ultimate goal is to make sure my clients are happy and thriving physically, mentally and emotionally.
How did you get started?
The fitness industry is a very saturated market and finding a niche that I could focus on ultimately led to the formation of iEvolve Fitness. Guided by a practical, sustainable and a flexible approach, my goal is to help my clients improve their physical and mental health, expand their knowledge base on nutrition & flexible dieting in order to achieve their goals and develop maintainable habits to live a balanced life.
I launched iEvolve Fitness at the start of May 2016 this year and am excited to be working with amazing individuals who grow and evolve everyday.
I have a strong passion for health and fitness and wanted to share my knowledge with individuals who are eager to learn and improve their health. Unlocking someone's potential is incredibly rewarding.
What have been some key factors in growing your business?
Being customer-centric, building value and providing knowledge to clients have been huge factors in my business's growth. The mission and mantra of iEvolve Fitness is that as we learn, experience, and expose ourselves to new ideas. We develop gradually, changing over time to form new habits.
What do you use MoonClerk for?
I use MoonClerk to handle all my sales transactions and payment processing. MoonClerk is perfect for my clients who have recurring month-to-month programs.
What problems did you have with your previous payment system?
PayPal just was not ideal for making transactions and felt like I was constantly chasing payments. I was spending my time inefficiently.
What made you decide to use MoonClerk?
MoonClerk was exactly what I needed to make my business transactions run smoothly. MoonClerk is extremely user-friendly and I was able to customize it for my needs.
What was your experience when switching and getting started with MoonClerk?
Very positive. It was easy to integrate MoonClerk into my Squarespace website. I love that my clients are able to make hassle-free credit card transactions. Because of the way my business is set up, I'm able to use MoonClerk to set up one-time payments, monthly payments and even recurring payments that last for specific timeframes.
What do you like about MoonClerk?
MoonClerk is perfect for my small business. I really enjoy the simple and straight forward way I'm able to create forms and payments. Creating special payment forms with flexible options makes it easy for my clients who are on budget and can only pay at certain times of the month. Another feature that I enjoy is the ability to create coupon codes for when I run promotions on programs.
How has MoonClerk improved or helped your business?
With MoonClerk , I've been able to streamline 100% of iEvolve Fitness's sales transactions.
MoonClerk makes it extremely easy for all parties involved. Using MoonClerk has increased my conversion rate of prospective clients to paying clients and has increased my business's overall productivity.
Any advice for others who are in similar industries?
Providing a service that educates, encourages growth, and builds value goes a long way. Helping others realize their potential by developing a healthy and balanced mindset is one of the greatest advantages in achieving long-term lifetime success.