Customers
How MoonClerk's Installment Payment Plans Help The Self Care Suite Put On Better Events
Dodd Caldwell
July 21, 2020

Tara Pringle Jefferson, founder of The Self Care Suite, talks with us about how using MoonClerk to offer installment payment plans to her members for her larger events has helped her business.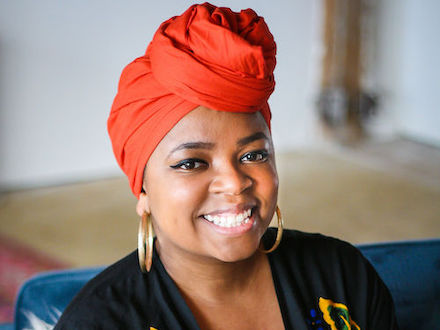 Can you tell us a little about what The Self Care Suite does?
The Self Care Suite is a personal development community for women. Our mission is to give women the space to flourish and discover how to live with less stress and more joy.
What are your day-to-day responsibilities?
As the founder, I work to provide members of the community (affectionately dubbed "SuiteHearts") with content, events, and products to help them improve their stress management techniques.
How did you get started?
I started The Self Care Suite in 2015 after a pivot from my previous blog.
What have been some key factors in your business's growth?
I have purposefully controlled our growh. Our mission is less about growing fast and more about building community. If you don't take the time to learn about your current members, it waters down the community and eventually folks will leave because they're not being fed. Growing slow gives us time to vet new members, roll out events, and launch new campaigns, gauging what works and what doesn't. We're at nearly 1,000 members and we're happy with that growth.
What do you use MoonClerk for?
We use MoonClerk to allow our members to pay in installment payment plans for our larger events.
What problems did you have with previous payment systems?
We host one large retreat every year and in order to make it affordable and accessible, we offer payment plans for attendees. Previously, we used an event ticketing system and manually sent out reminders to attendees to make their payments but it was time-consuming and stressful. It wasn't efficient. It took our focus away from more important matters of event planning and created more work during an already busy time.
What made you finally decide to use MoonClerk?
We were looking for something affordable, streamlined, and efficient for our attendees.
What was your experience when getting started with MoonClerk?
MoonClerk was very easy to set up and use. Once we had the payment page set up, attendees were able to make their deposits and recurring payments with ease.
What specific feature do you like most about MoonClerk?
I like that I can gather additional information in the MoonClerk payment forms. We do surveys to attendees to help us plan a more personalized event.
We like that attendees can go in and make changes to their account on their own. It's also a bonus that MoonClerk is affordable and easily fits into our organization's budget.
How has MoonClerk helped your business?
On-time payments through the recurring software have freed us up to focus on what really matters – the event itself! Nearly all our payments are captured on-time, without our team having to lift a finger. MoonClerk has allowed us to produce an accessible event without putting too much stress on our plate.
Would you recommend MoonClerk to others?
I would definitely recommend MoonClerk because it offers an easy, reliable, robust system for tracking and managing recurring payments. MoonClerk is the best upgrade we made to our business this year.