Customers
How Savage Marketing Group Grew Sales By 54%+ With MoonClerk
Dodd Caldwell
6 minutes ago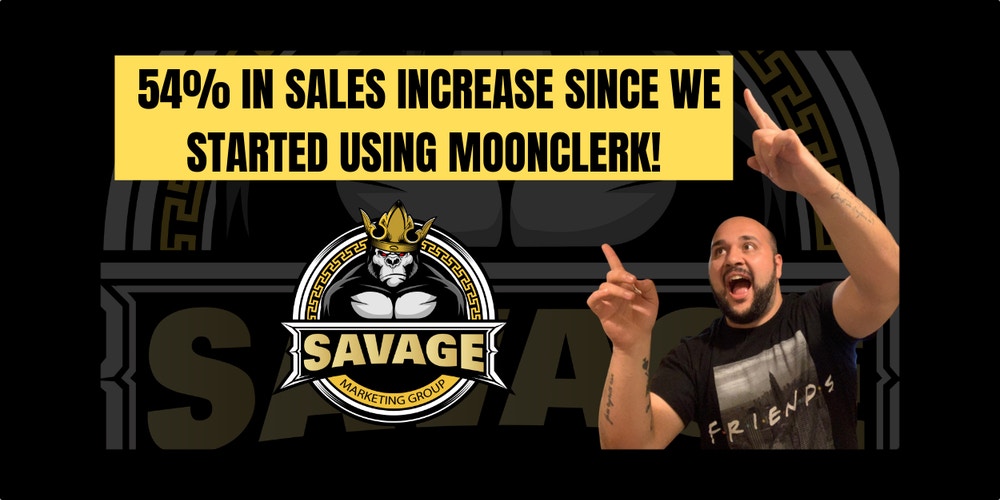 Mike Davchev, founder of Savage Marketing Group, talks with us about how MoonClerk helped him grow his revenue by over 54% and generate over $30K in sales by creating promotional campaigns for his potential and current customers.
Can you tell us a little about your business?
Savage Marketing Group focuses on helping business owners develop their brand by utilizing professional graphic design and strategic brand building. We are also helping businesses with their marketing strategies. Savage Marketing Group also has another brand - Leadklik.com - that focuses mainly on providing qualified leads to our customers.

Our main niche is serving business in the Tax, Credit Repair, Real Estate and Financial industries. However, we do provide services for other businesses as well.

This year we also started our mentorship program about mindset development, sales and, and marketing. So far, we have helped 130 students achieve their personal and business goals.
What are your day-to-day responsibilities?
As a CEO my day-to-day operations are focused mainly on checking on my employees and my clients and making sure that everything works smoothly and according to protocol. I make sure to attending live meetings with some of my high paying clients, partners, strategic partners, and employees. I also focus on establishing new relationships with future collaborators and masterminding new ideas in order to provide more solutions for our clients and future clients.
How did you get started?
Since 2004 I showed interest in design and my mother ended up signing me up for a private designing class in Europe. After that I ended up going to Music, Arts & Science College in Europe, but I never really utilized my design gift to the fullest. Shortly after I came in the States, I found my new love and that was the Trucking Industry, and to this day since 2009 I've been involved in the industry. How Savage Marketing Group started is very spontaneous!
Sometime in 2019 I became involved in the credit repair industry, simply because I was coming across a lots of truck drivers that wanted to purchase a truck, but their credit score was keeping them away from purchasing. I thought to myself…hmm, this might be a good idea to start. Shortly after starting in the industry, I was introduced to a Facebook group of over 10,000 members that were also in the industry. After 4-5 months of networking, I realized that about 80% of them were struggling with marketing, and…. this is when the idea of Savage Marketing was born. In the beginning I was only a one-man operation designing flyers day-and-night to serve my first clients. After 3 short months this little business that was started by coincidence – exploded. The rest is history!
Today we are proudly serving 549 clients on day-to-day basis!
What have been some key factors in growing your business?
Some of the key factors in growing my business have been understanding my clients' needs, focusing on them, and just getting things done. I do my very best to fulfill whatever is needed to get them going, even if it means me working outside of business hours.
What do you use MoonClerk for?
We use MoonClerk as a payment processor to offer our community our PROMO SALES and low-ticket subscriptions. With MoonClerk we have been able to achieve some great results offering our Promos because it has the ability to create beautiful & attractive themes. I love MoonClerk!
What was your experience when getting started with MoonClerk?
It was very easy. MoonClerk is very straight forward and easy to use, and that's what I like about it. Being an owner of multiple businesses and having a tight schedule, it has been a blessing to have a payment processor like MoonClerk, because it allows me to create any Promo Sales Offer to my clients in just 2 minutes!
What specific feature do you like most about MoonClerk?
Being able to design customize themes for the payment forms is my favorite feature.
How has MoonClerk improved or helped your business?
MoonClerk has significantly helped my business! My sales increased by over 54% on a day-to-day basis just because we were able to offer daily Promo Offers. We didn't have those before. We were just depending on monthly income.
These daily promo offers changed the way we help our clients and how we make money at the same time. I believe that every business should really consider using MoonClerk!
Would you recommend MoonClerk to others?
The answer is simple. We generated $30k+ in sales by implementing a 2-minute strategy and creating easy-to-use payment forms! MoonClerk is the best platform out there!
Is there anything else you'd like to add?
Keep Hustling, cause time is ticking!