Customers
How TitleTap Uses MoonClerk to Accept Recurring Payments for Its Web and Mobile Software Products
Dodd Caldwell
July 21, 2020

Eliot and Dean, founders of TitleTap, talk with us about how they're using MoonClerk to power recurring and one-time payments for their web and mobile app as well as their marketing services.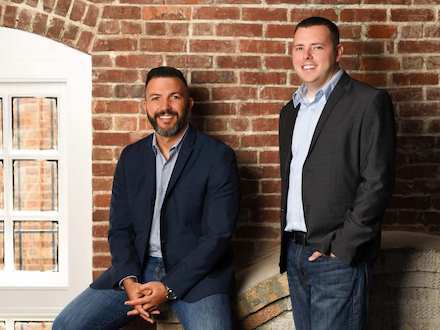 Can you tell us a little about Title Tap?
TitleTap creates effective and affordable web and mobile marketing tools for land title insurance companies. Our flagship product is an app that runs on nearly any device – Windows, Mac, iOS or Android. It helps real estate agents close more sales faster by giving them access to their title companies' rates anytime ,anywhere. Plus it is a great tool for title companies to stand out against their local competitors.
We also help title companies and real estate attorneys with their email marketing and websites. For instance, we have a whole marketing engine built specifically for real estate and title. You can simply plug it into your website, customize it for your specific business, and keep your customers engaged.
Most recently, we've been working with several closing companies to build a solution to solve their new compliance issues. We expect a solution available to the general public in Q1 2015.
How did you get started?
Industry knowledge and talking to people still in the industry about their current challenges helped a lot. Both of us as founders have experience in the industry. Dean worked in the title industry while getting his real estate license, while Eliot managed the computer systems for multiple title and real estate lawyers.
What have been some key factors in growing your business?
Reading between the lines of what our customers are saying and what they really need, then building and testing a product around that need.
Making payment terms and onboarding as streamlined as possible. MoonClerk has helped us do this. Our customers are busy. Complicated payments like writing checks and multiple page checkouts will ensure that we don't get paid in a timely manner.
What do you use MoonClerk for?
We use MoonClerk for collecting payments in a flexible way. We pride ourselves in learning each of our customers' specific needs before implementing anything for them. Not every customer has the same needs; therefore, they can't all be charged exactly the same. As a result, we needed a way to set up payment pages quickly and easily with the option for both recurring and one-time payments. Shockingly, no other service will let you do this.
Before MoonClerk, did you use another payment system?
We tried several – Gumroad, PayPal, WordPress plug-ins, Xero, Freshbooks, Quickbooks Online. You name it, we at least evaluated it.
The other services can be good for their own reasons. But, surprisingly, none except for MoonClerk would allow us to quickly set up a payment page for a product or service, accept recurring, one-time, or a combination of payments, and also let us get paid quickly via Stripe.
MoonClerk was exactly the service we were looking for and thought didn't exist.
What problems did you have with these other payment systems?
Gumroad, for instance, is a similar system but does not allow you to sell software products and services. You can only sell digital goods – eBooks for example. Gumroad also limits transactions to $1,000.
Other invoicing programs (Xero, Freshbooks, et al.) allow you to send recurring invoices, but not automatically accept recurring payments.
How did these problems affect your business?
Before MoonClerk we either had to custom-code a payment page to use Paypal, which was a nightmare, or manually bill the customer with paper invoices and paper checks. MoonClerk allowed us to get paid now. And even more importantly, automatically collect recurring credit card charges.
What made you decide to use MoonClerk?
Collecting payments is not a core competency of ours or one that help our customers. As a result, we'd rather spend our development time and dollars on solving our customers' problems instead of building or integrating a custom payment system (with a WordPress plug-in for instance). MoonClerk does exactly what we need it to do. Plus, the price makes it a great value.
What was your experience when switching and getting started with MoonClerk?
It was a piece of cake. I had several payment pages and our Stripe account integrated in under an hour.
What do you like about MoonClerk?
We like what MoonClerk accomplishes. It's easy to use and we can quickly create custom payment landing pages and charge recurring and/or one-time fees.
How has MoonClerk improved or helped your business?
MoonClerk helps us get paid quickly and easily set up new payment forms.
Any advice for others who are in similar industries?
If you need a way to collect payments for software or services quickly, or you need the ability to charge customers different amounts, give MoonClerk a try.